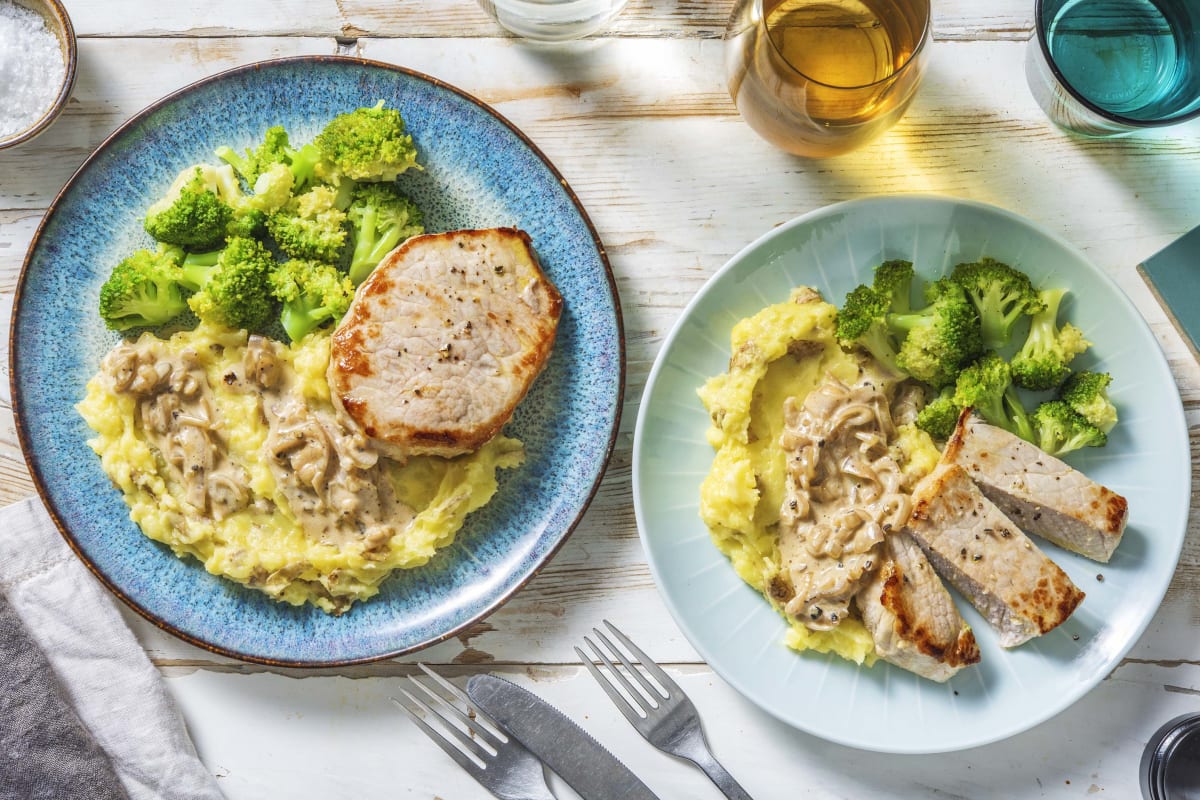 Pork Steak
with Creamy Mash and Peppercorn Sauce
Sage is always seen as the traditional herb to accompany pork but rosemary works beautifully too. Tonight's dinner combines these two complimentary ingredients with creamy mash and a piquant peppercorn sauce. Delicious!
Boxes and ingredients are packed in facilities that handles Peanut, Nuts, Sesame, Fish, Crustaceans, Milk, Egg, Mustard, Celery, Soya, Gluten and Sulphites. Due to the war in Ukraine, it has been necessary to substitute sunflower oil with rapeseed oil in some products without a label change. The FSA have advised that allergic reactions to rapeseed oil are rare.
Preparation Time
35 minutes
75
Creme Fraiche
(Contains Milk)
Not included in your delivery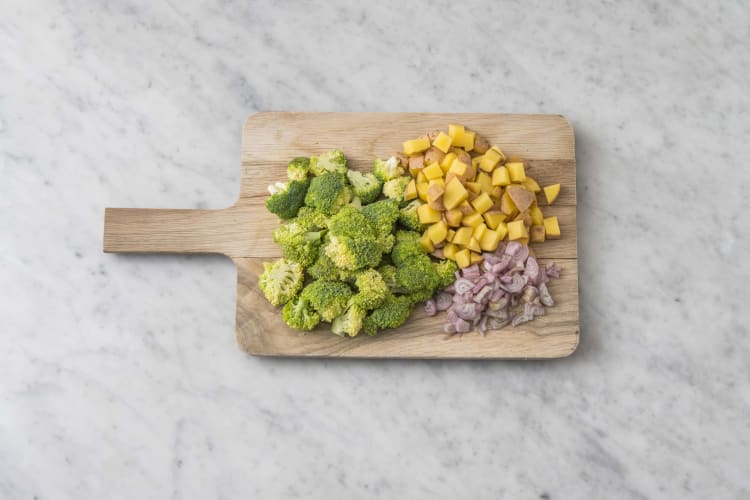 Preheat your oven to 200°C and put two large saucepans of water with 0.25 tsp of salt in each on to boil for the potato and broccoli. Chop the potatoes into roughly 2cm chunks (no need to peel). Separate the broccoli into florets (like small trees). Halve, peel and chop the shallot into small pieces.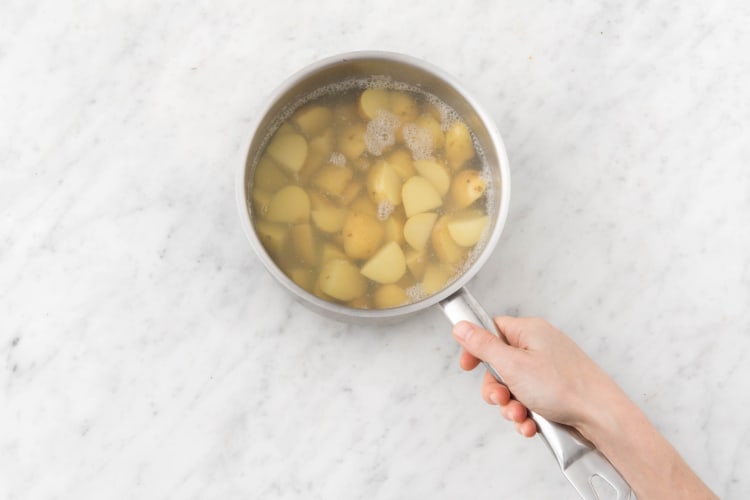 Pop the potato into one of the pans of boiling water and cook until you can easily slip a knife through, 15-20 mins. Once cooked, drain in a colander and return to the pan off the heat, with a lid on (or cover with some foil).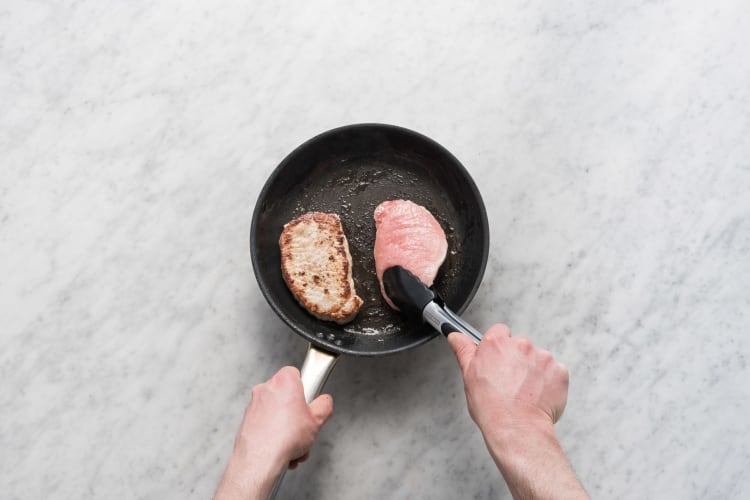 Meanwhile put a frying pan on high heat (no oil). Rub each pork steak with oil and season with salt and pepper. When the pan is hot, fry the pork, 1-2 mins each side. Transfer to a baking tray (keep the pan for later) and top with the rosemary sprigs. Cook on the top shelf of your oven for 8-10 mins. IMPORTANT: The pork is cooked when it is no longer pink in the middle. Once cooked, remove from your oven, cover with foil and set aside to rest.
Meanwhile, heat a splash of oil in your now empty frying pan on medium heat and add the shallot. Fry until soft, about 4 mins. In the meantime, put the black peppercorns in a freezer bag, lightly crush them using a heavy pan. Add them to the shallot along with the chicken stock powder and water (see ingredients for amount). Bring to the boil and bubble away until reduced by half (add a splash of water if it gets a bit thick!).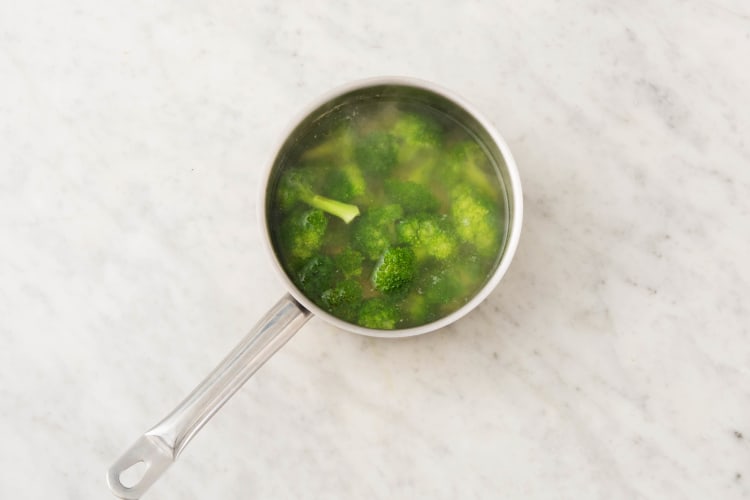 While the sauce is reducing, add the broccoli to your second pan of boiling water. Cook until tender, 4 mins - it should still have a bit of a bite! Drain in the colander.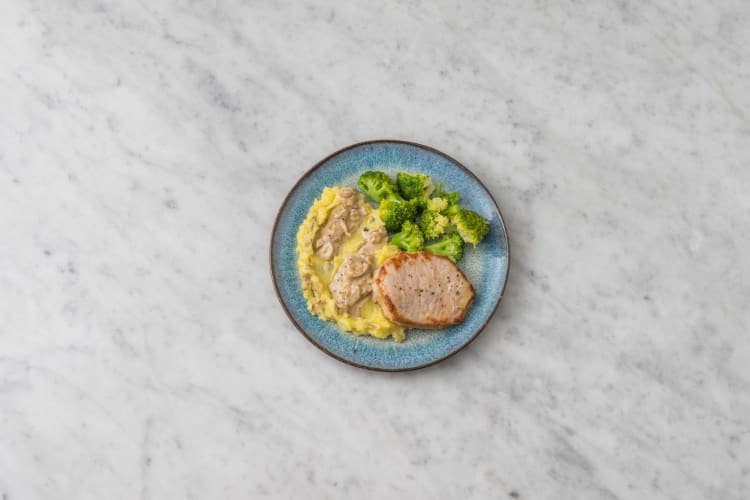 Season the potato with salt and pepper and mash until smooth. TIP: Add a splash of milk and a knob of butter (if you have some). Stir the crème fraîche into the peppercorn sauce and warm through gently. Once combined, remove from the heat. Serve the mash topped with the pork and peppercorn sauce, with some broccoli alongside. Enjoy!