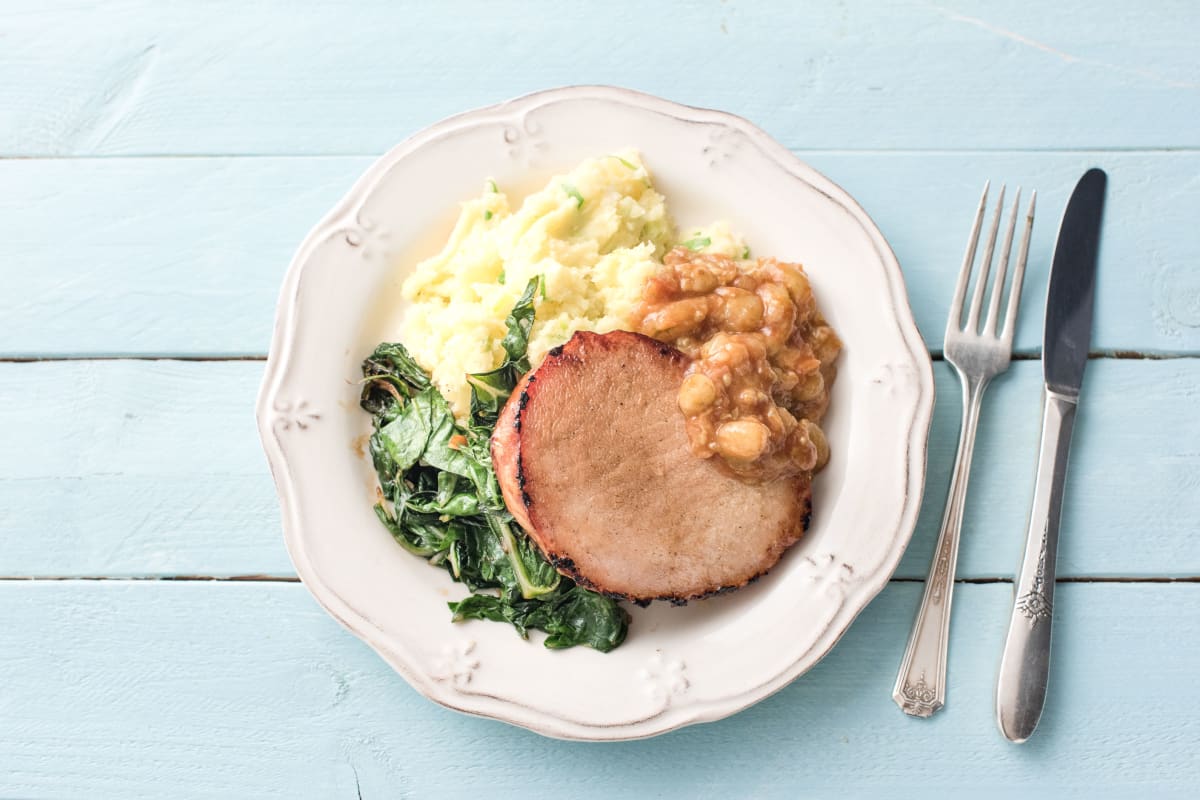 Gammon Steaks with Spring Onion Mash
with Garlicky Spring Greens and Gooseberry Ketchup
Drum roll please for our British Fruit of the Month - the humble gooseberry. She hides in thorny bushes to elude us all, but she knows we know how deliciously sweet (and fierce) she can be. We've got you all worked out Mrs. Gooseberry… you're a sucker for some good old garlicky spring greens and some perfectly cooked gammon steaks. So, here goes...
Tags

:
Not Suitable for Coeliacs
Boxes and ingredients are packed in facilities that handles Peanut, Nuts, Sesame, Fish, Crustaceans, Milk, Egg, Mustard, Celery, Soya, Gluten and Sulphites. Due to the war in Ukraine, it has been necessary to substitute sunflower oil with rapeseed oil in some products without a label change. The FSA have advised that allergic reactions to rapeseed oil are rare.
Preparation Time
40 minutes
2
Tomato Ketchup
(Contains Celery)
1
Cider Vinegar
(Contains Sulphites)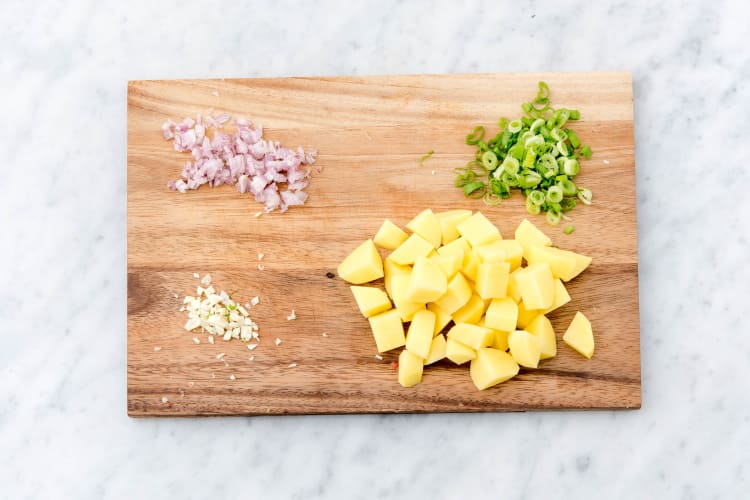 Put a large pot of water on to boil with ½ tsp of salt. Cut the shallot in half through the root. Peel, and chop into small ½cm pieces. Peel and chop the potatoes into roughly 2cm pieces. Peel and grate the garlic(or use a garlic press if you have one!). Thinly slice the spring onions. Remove any outer layers off the spring greens if you need to, then roughly slice the spring greens into 1cm wide slices, discarding the tough root at the end.
Put your shallot in a saucepan (which has a lid) with 1 tbsp of oil and cook on medium-low heat for 5 mins until softened.
While the shallot is softening, put your potatoes in the boiling water to cook for 15-20 mins. Tip: The potatoes are cooked when you can easily slip a knife through them.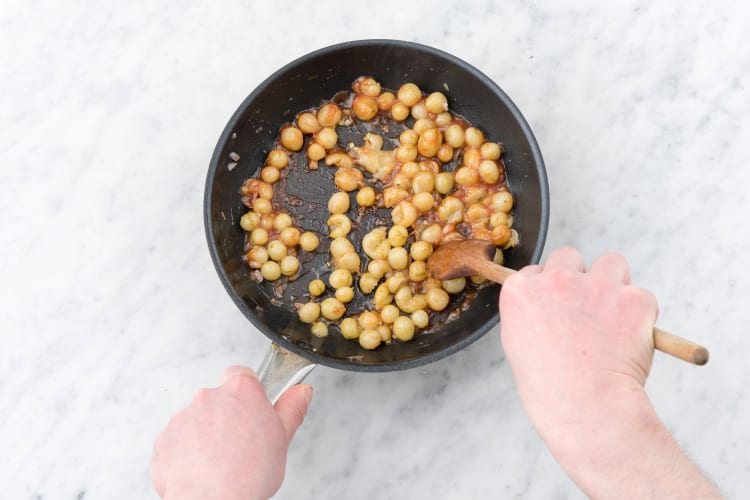 Once your shallot is soft, add the gooseberries, ketchup, star anise and cider vinegar to the pan along with 3 tbsp of sugar(if you have some). Put the lid on (or cover with tin foil if you don't have a lid) and cook on low-medium heat for 10 mins, (stirring occasionally) before taking off the lid and breaking the gooseberriesup, either with a wooden spoon or a masher. Leave the lid off and cook on low heat for another 5 mins before leaving the pan to the side for later.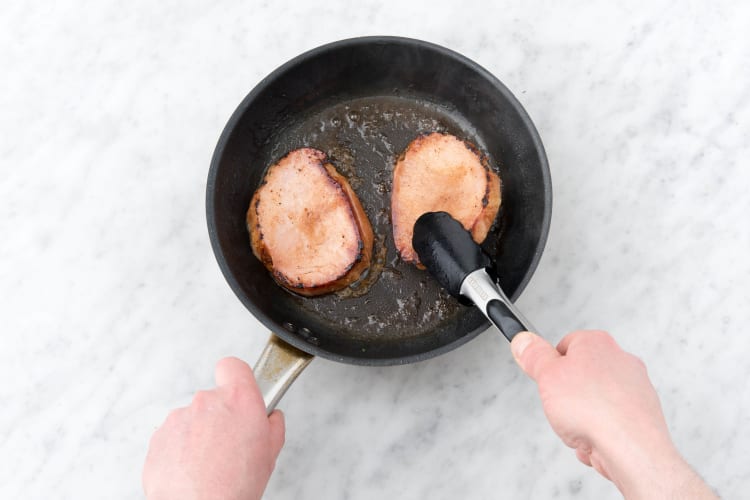 Put a large frying pan on medium heat with 1 tbsp of oil. Season each of the gammon steaks with a good grind of black pepper. Lay the gammon steaks in the frying pan and cook for 4 mins on one side before turning over and cooking for 3 mins on the other side. Remove your gammon steaks to a plate and cover with foil, leave to rest while you finish everything else off (no need to wash the pan, you'll use it later!).
Once your potatoes are cooked, drain them and pop them back in their pot. Add 2 tbsp of butter and 4 tbsp of milk (if you have some), along with ½ tsp of salt and a good grind of black pepper. Add in your sliced spring onion and mash your potato until smooth. Put a lid on your pan and leave to the side until everything is ready.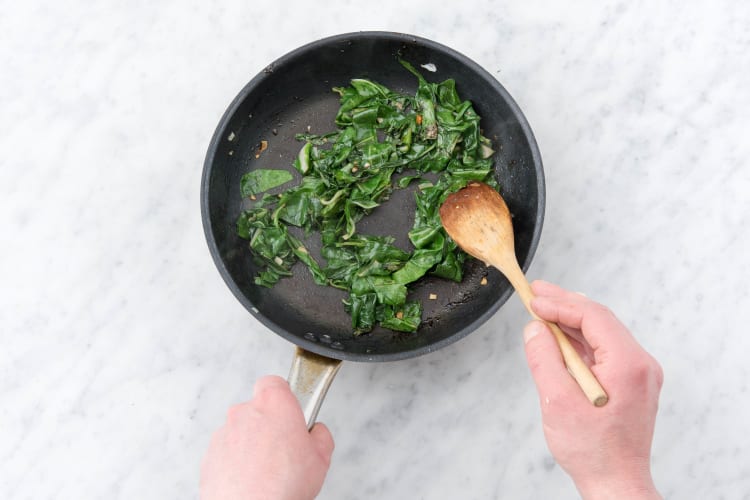 Put 2 tbsp of oil in the same frying pan you cooked your gammon in (no need to wash), on medium heat and add the spring greens and 2 tbsp of water. Season with ½ tsp of salt and a good grind of black pepper. Tip: If you need two pans to do this, that's fine! Cook for 2 mins before adding your grated garlic. Cook for another 1 minute. Then take off the heat.
Remove the star anise from your gooseberry ketchup, then serve your gammon steaks with your garlicky spring greens, your spring onion mash and your gooseberry ketchup on the side. Enjoy!