Best Tomato Recipes and Meal Ideas
Transform the humble tomato in an array of recipes fit for every occasion. Explore the best recipes with tomatoes HelloFresh has to offer.
Tomato Recipes from HelloFresh
Check out our top vegetarian recipes
Tomato Recipes
From zesty, fresh sweetness to deep, rich flavours, tomatoes offer an amazing range of flavour and have a prized place in many world cuisines. Check out our tasty tomato recipes below.
Cherry Tomato Recipes
Small, sweet and packed full of flavour, enjoy a burst of cherry tomato in a range of tasty recipes. Pasta, subs, risotto, whatever your fancy there's a cherry tomato recipe for it.
Further Cherry Tomato Recipes
Tomato Salad Recipes
Enjoy the tomato in its traditional form - at the heart of a salad - with our HelloFresh recipes. Go back to basics with a tasty twist and try one of these recipes for yourself today.
Further Tomato Salad Recipes
Tomato Pasta Recipes
It's hard to imagine Italian cooking today without tomatoes' classic taste. Add a taste of Italy to your HelloFresh box by choosing one of our delicious tomato pasta recipes.
Further Tomato Pasta Recipes
Sun Dried Tomato Recipes
Sun-dried tomatoes brings out the intense flavours of the tomato for a much richer, overpowering taste ideal for bold recipes. Try out sun dried tomato recipes from HelloFresh.
Tomato Tips, Tricks & Hacks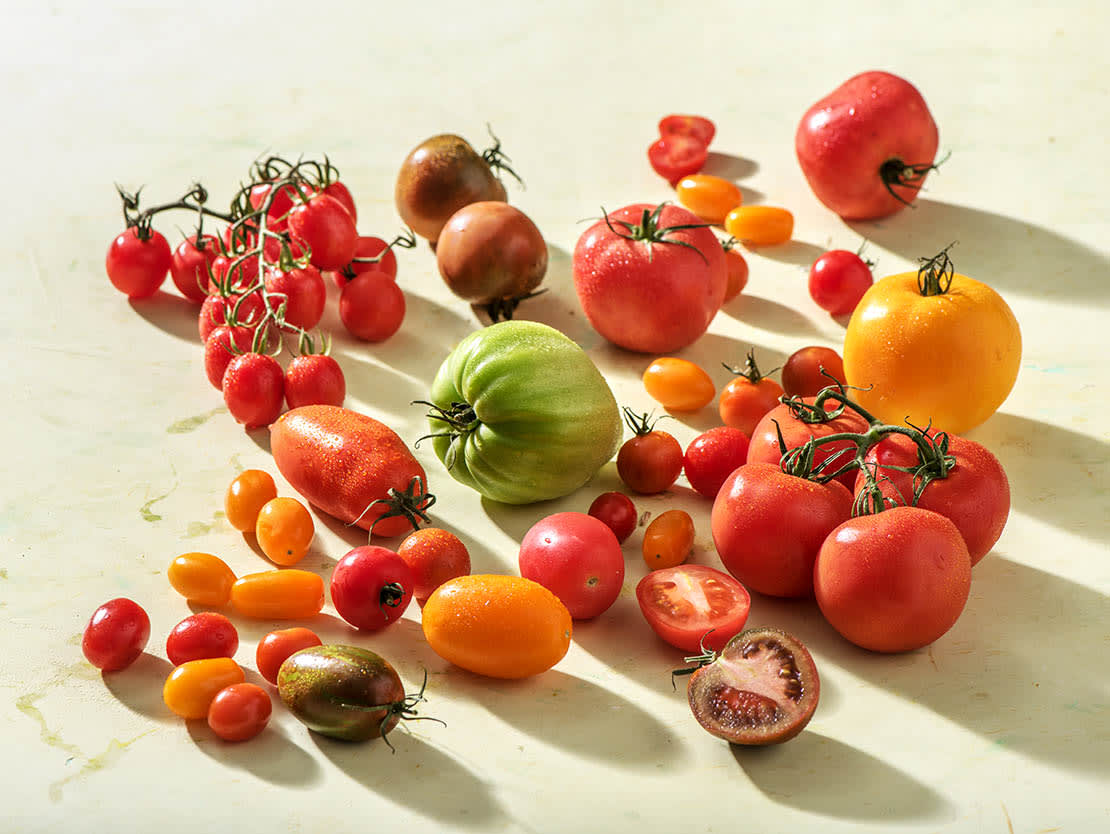 How to cook with tomatoes
The finest vine-fresh fruits are best enjoyed raw, in any number of salads and antipasti. The sweet-sharp quality of the juice is a perfect match for freshly picked Mediterranean herbs. With a pair of kitchen scissors, snip delicate slivers of basil, oregano, chives or even mint over the layered slices and dress with a drizzle of olive oil. Adding a good-quality soft cheese like mozzarella or burrata creates a classic Italian starter.

Cooked tomato is essential to a range of European and Latin American recipes. Diced and lightly fried with onion, garlic and other vegetables, it is sometimes known as soffritto – the base for a huge variety of tomato recipes, sauces and slow-cooked dishes. This combination also freezes well.

A number of recipes require de-skinning. Cut a small cross in the base of each fruit, place them in a saucepan and pour over boiling water. After a few minutes, the skins will start to loosen. Once they have been allowed to cool, you can peel away the segments of skin without breaking the flesh.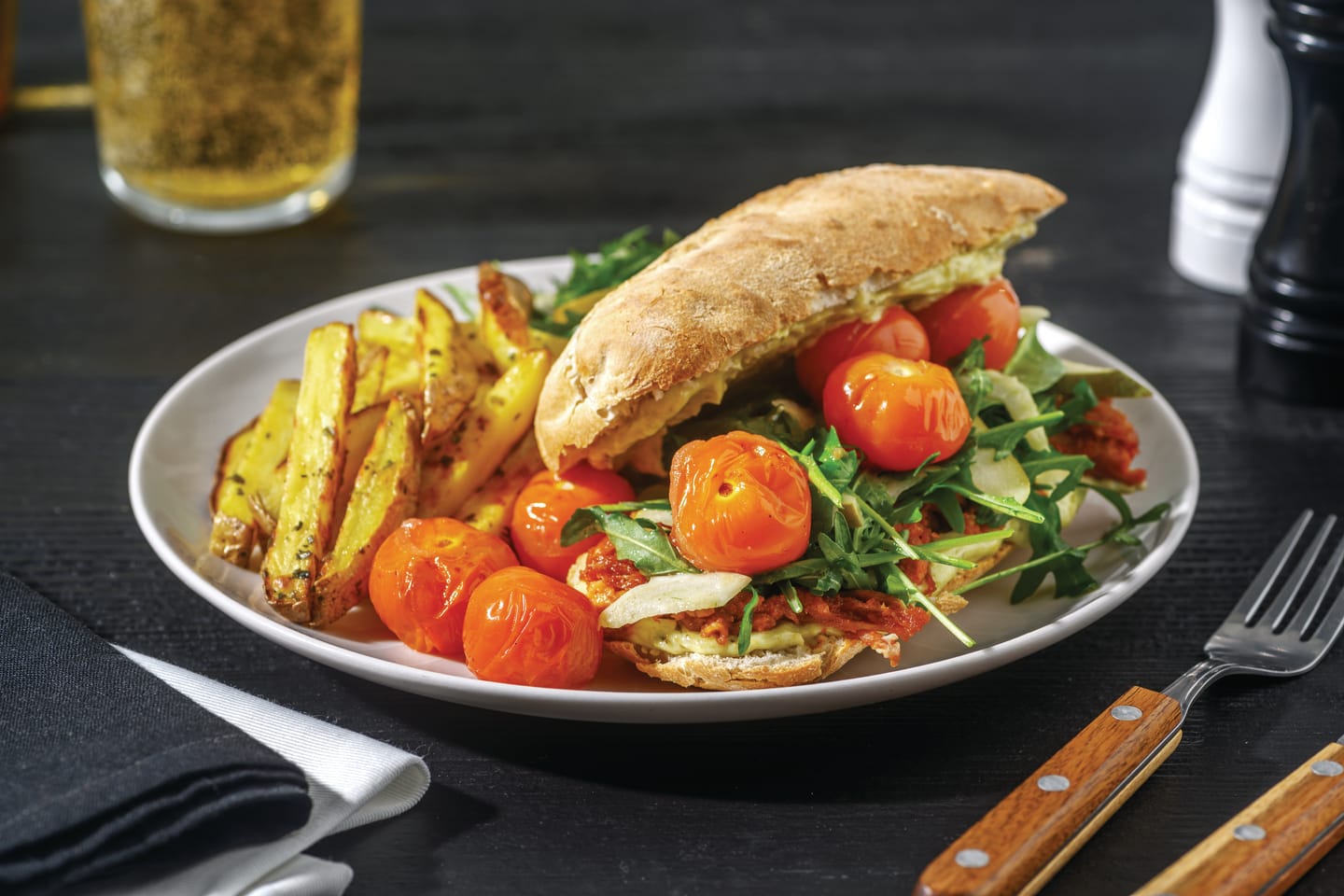 How to get the best out of intense flavours from tomatoes
You can enjoy intense flavours by preparing larger varieties in the oven. For a rich but simple side dish, place quarters in a baking dish, dress generously with oil, and roast them; add your choice of spices towards the end of cooking. Some that work particularly well include:

Zaatar
Chipotle
Paprika
Cayenne
Chilli
Don't be afraid to mix different forms of tomato in the same dish. Sun-dried and cherry tomatoes can both feature in a hearty salad. You can also add fresh pieces at the last minute to a rich and satisfying
pasta al pomodoro
.
If you're following a health-conscious diet, this vegetable is a particularly good choice because it pairs well with other nutrient-rich foods. In a superfood salad, their distinct flavour provides a great contrast to a mix of leafy greens like kale, shredded broccoli or baby spinach that are valuable sources of vitamin K and calcium.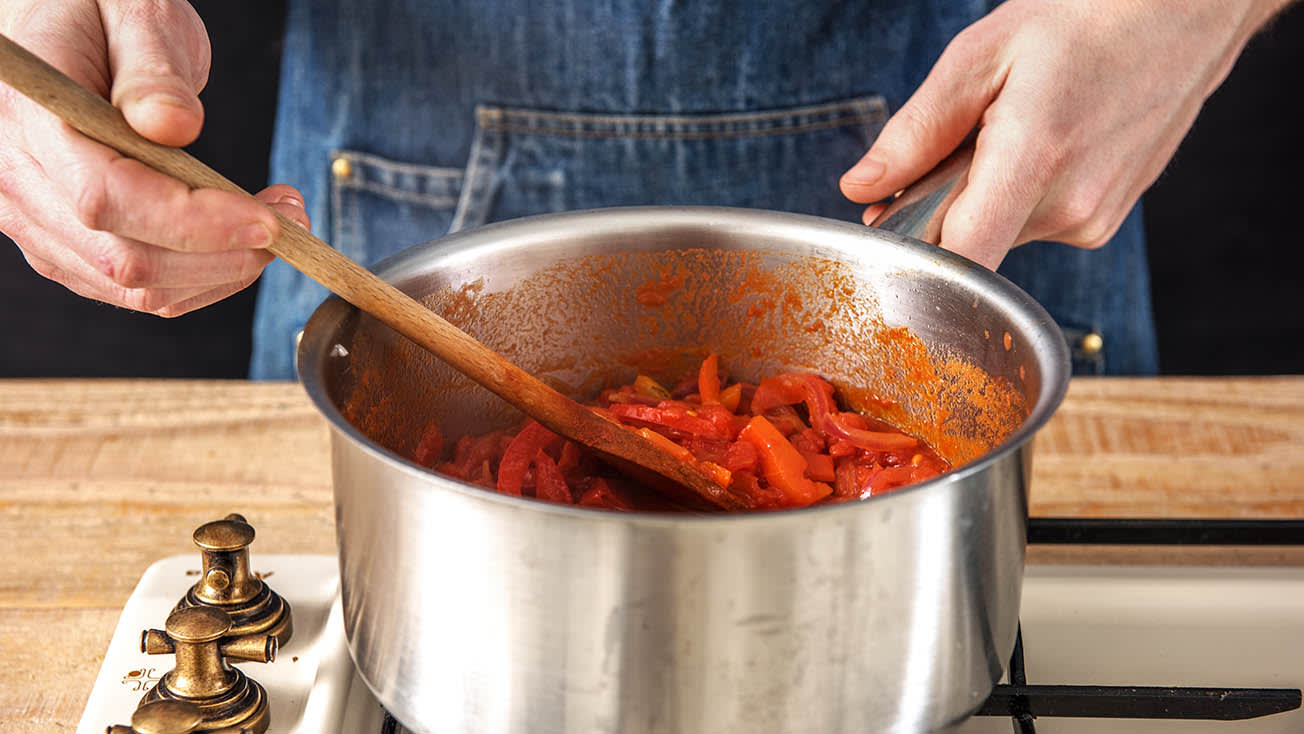 How to make the best homemade tomato sauce
Want to enjoy the taste of homemade tomato sauce, try this recipe and see if it takes you nostalgically back to your youth. All you need is some freshly prepared tomatoes, chopped finely, diced onion, sugar, malt vinegar, cayenne pepper and black peppercorns.

Mix the ingredients together in a large pot and allow to slowly boil for an hour.

Finally blend the softened ingredients together well until smooth - and there you have it!
How to: Tomatoes - FAQs
Is tomato a fruit?
It's widely debated whether tomatoes are a fruit or a vegetable. From a cooking, nutritional standpoint, yes, tomatoes are fruits because they grow on a flower and they contain seeds which go on to grow into flowers, too.
How to peel tomatoes?
To peel tomatoes, bring some water to the boil on a stove and add a few tomatoes in at once. Leave for a small amount of time until the skin begins to peel back and then place in ice water carefully to cool. You should then be able to peel the skin back perfectly.
Can you freeze tomatoes?
Yes, tomatoes can be frozen whole, sliced, skinned, stewed or cooked.
How to make sun dried tomatoes?
Despite the name, you don't have to have the sun to cook up some sun dried tomatoes at home. All you need is a lined baking tray, an oven and, of course, some tomatoes. Preheat your oven, line sliced tomatoes on your baking tray and slowly heat for up to 3.5 hours when the tomatoes have dried out. Keep a close eye to ensure they do not burn.